Holding back a hill with a buttress of cash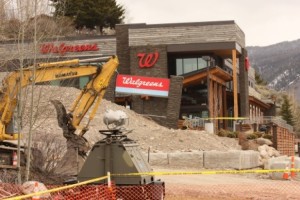 "What have we been waiting for?" asked Bob Lenz.
The councilman's question was directed at administrator Bob McLaurin regarding Budge landslide mitigation that appears to have stagnated for the past two years at "police taping" the affected area until tax revenues come to the rescue.
While waiting on Walgreens executives to offer their solutions (and, more importantly, their financial contribution) town authorities have begun to rebrand the event in the attempt to sway public sentiment headed into this year's election cycle. One way or another, voters will be asked to pay for a fix on Budge, whether it's called the West Broadway Landslide or the "Walgreens Waterloo."
The council was tasked at last Monday's regular meeting to amend contracts with Nelson Engineering and Landslide Technology that would allow both construction companies to begin Phase II final design work on the west portion of the slide while Walgreens reps decide whether or not they want to fix their half. The price tag comes to $354,351 ($205,307 to Nelson Engineering; $149,044 to Landslide Technology).
"We've been waiting on acquisition of dirt," McLaurin responded to Lenz's question. He went on to explain sheer keys and buttresses and a conceptual design that would hopefully "shake hands" with what Walgreens is thinking they will do with their east section.
When asked by civic leaders whether anything they approved now is contingent on money coming in via a special tax, McLaurin emphasized again this was work that must be done sooner or later. Preferably sooner.
"The work has to be done," McLaurin said. "SPET is not about: 'Are we going to do this?' Not doing it is not an option. We cannot risk a catastrophic failure of the hillside. It's about, 'How are we going to pay for it?'"
Councilman Jim Stanford railed against miscommunication circulating in the community that has painted the oozing calamity as "Walgreens' fault" or "the town's problem."
"This whole community conversation has been about assigning blame," Stanford complained. "We've moved past the blame game. This is too complex and partly the reason why we came to a settlement. There may be litigation between other parties still to come but we need to step away and move toward stabilizing a problem that threatens public infrastructure on Budge. And we are not bailing out any private entity."
Public Works director Larry Pardee promised any public money raised would be spent on water and sewer remediation, not on shoring up Walgreens' parking lot. "Even if Walgreens wasn't there we would be doing the exact same thing," he said.
With Lenz still advising the town wait on more feedback from engineers, Don Frank was once again "full steam ahead" on "wrestling to the ground" a potential solution for the slide."I respectfully encourage the council to approve the immediate approval of this. We are fooling ourselves if we think this is a slow emergency," he said.
Frank suggested town leaders perhaps seek out a firm with more experience in dealing with landslides as the town considered an RFQ (request for qualifications) for a construction manager at risk (CMAR).
Frank said, "I don't know a firm in western Wyoming that has actually mitigated a landslide. We should find a firm that specializes in landslides. This is not an operation suitable for someone to cut their teeth on."
Pardee assured Frank they had received interest from a "very large" firm that has worked on Togwotee Pass, for instance.
As an aside, Pardee also stated that neither the current freeze-thaw cycle nor recent earthquake activity had not made any impact on the slide, according to four data points they had studied so far.
The town council voted 3-1 to move ahead with the RFQ process for a CMAR, as well as bid awards to Nelson Engineering and Landslide Technology with Lenz in opposition. Lenz said he was willing to "play the game" but wanted to see all the cards on the table first.