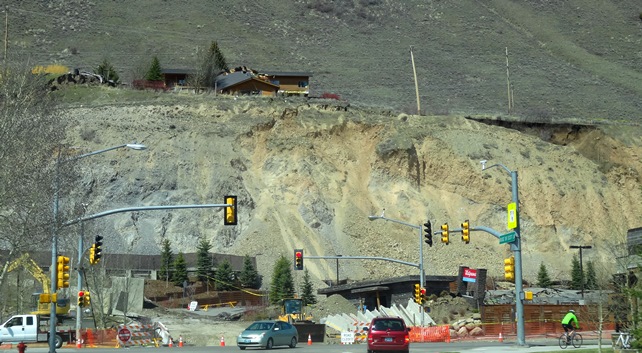 No new taxes
This one should fit right in the wheelhouse of the local Tea Party.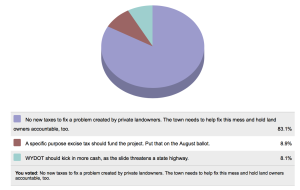 A News&Guide poll shows the community is very particular about what we are willing to bear the burden of. We work hard for our money, and to have government come asking for more of it in order to staff a monster Housing Authority department/agency AND to fix Budge slide might be pushing the envelope a bit, no?
More than 83% of respondents said this is a town problem. They need to figure out what went wrong and who did what. Only 8.9% want to see the costs to fix the slide covered by a special purpose tax (SPET). Eight percent think WYDOT should step up (Good luck with that; their budget is tapped out).
Not budging a bit
No one is denying Budge slide is a potential public safety issue. We feel for the families and local businesses that have suffered for two years now. But why is no one from the town looking into what went wrong?
There are only two ways to interpret the issue. Either, as some town officials have declared, we have a precarious butte with a 60-year history of eroding and something was bound to go wrong. Or town engineers were overly optimistic (following town electeds' over eagerness) to get Walgreens in Jackson. Then there was the 200,000-gallon water leak from a private residence atop the butte.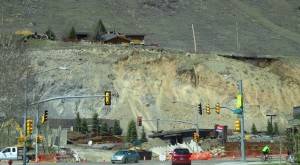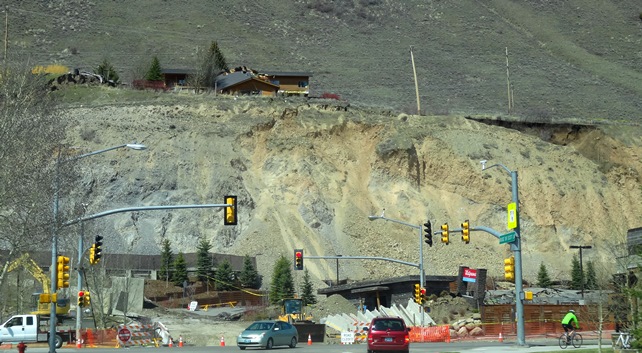 If the butte had a history of geological activity and unstable behavior, why on earth would development be allowed that plopped a new Walgreens at its base? A project that required extensive grading and carving into the hill. If the slide was simply an Act of God that could not be foreseen, it sure seemed to coincide in a perfectly timely manner with the addition of the pharmacy store carved into the hill's toe.
Judging from the poll results, we think the community deserves some better answers. All we've seen so far from our town is a payoff to homeowners so they wouldn't seek legal action—Bencor (Walgreens) did the same— and an urgent plea to "not play the blame game. Let's not point fingers. Let's look ahead to the fix," say town staffers.
That's not good enough. That's irresponsible government. If they won't investigate the possible causes, a current lawsuit in the works will bring everything into the light. Until then, it sure looks like we aren't willing to foot the bill.