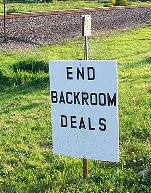 D2: Dirty deal
We aren't the only ones upset with our elected officials over their change-up in zoning in downtown Jackson where they opted, in the 11th hour, to add millions more square feet of commercial after promising not to. The result of which, by the way, could mean more 50 more hotels in the core of downtown Jackson alone. That's right…50 more 115-room hotels.
That's an incredible amount of increased traffic and growth generator. Besides the tourists driving to and from the hotels, each will require staff. Reservations desk, bellboy, valet, concierge, maintenance, housekeepers, laundry, cooks, servers, HVAC repair, and administrators like a GM, assistants, PR, HR, Food & Beverages.
It was a major decision made in AFTER public participation convinced town leaders to stop building hotels and restaurants that worsen our housing and transportation problems. When you're in a hole, you stop digging, right?
Wrong.
The town council passed out shovels to every condo builder and hotel developer who wants to make a buck in Jackson.

Mayoral candidate Pete Muldoon wrote this editorial for Planet JH about what he said was a "backroom deal" that came as a "shock to most residents."
…Also check out Meg Daly's coverage.