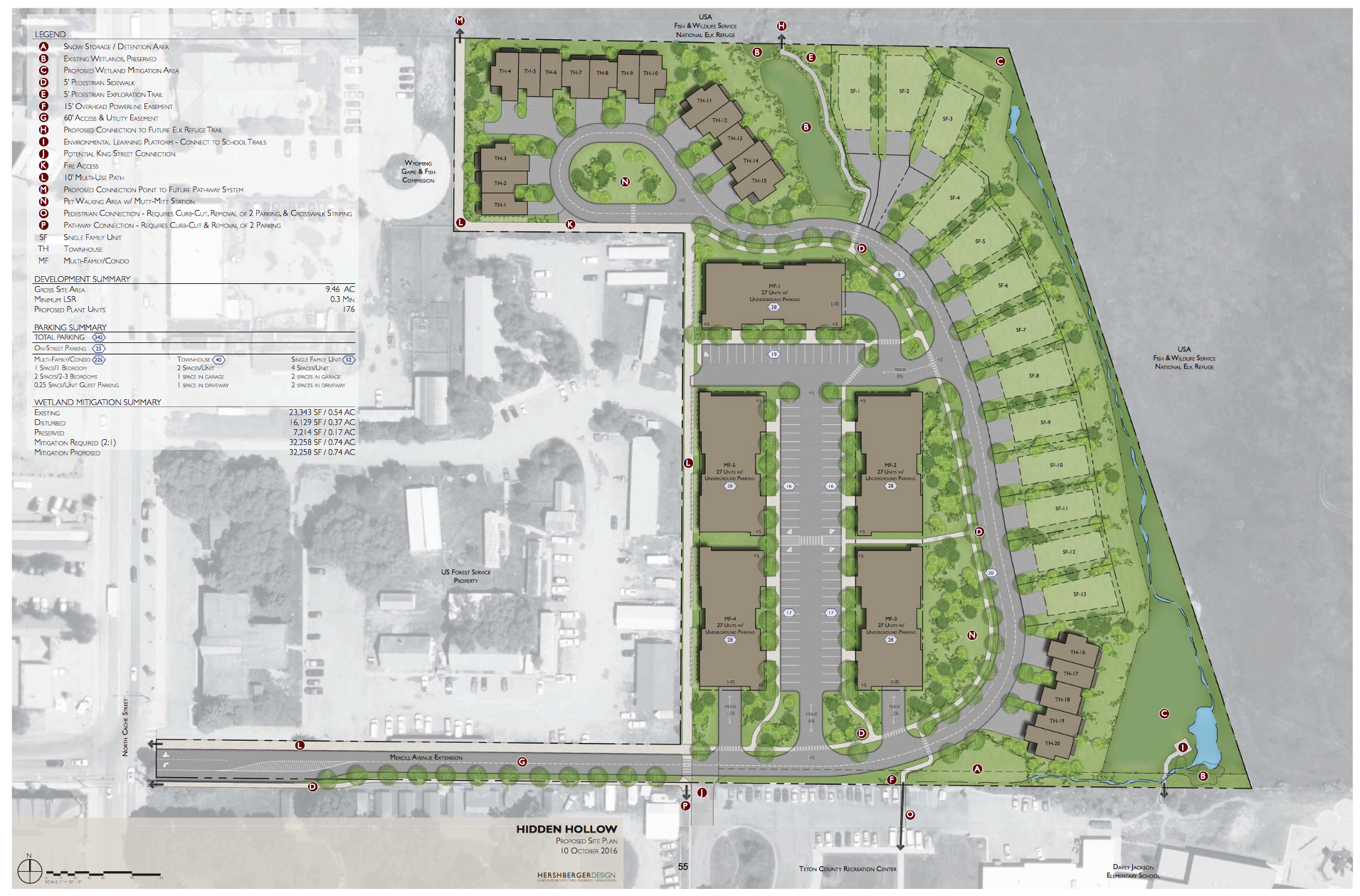 Hidden Cost: dense neighborhood headed for Jackson
Hidden Hollow moved forward this week when the town council approved the sketch plan for the 168-unit residential neighborhood on Monday.
Background
Hidden Hollow is a proposed development for the former Forest Service property on North Cache. The Hansen brothers from Idaho Falls—who also own Bischoff in Jackson—purchased the 10-acre parcel last year. The property was also rezoned in 2015 to Urban Residential.
The proposed project consists of 13 detached single family units, 20 attached single family units (townhomes) and 135 attached single family units (condominiums) or apartments within 5 buildings.
The Good
The Hansen Brothers seem truly committed to developing something that they feel is sorely needed in this community: housing. They plan to take advantage incentives provided through the revamped PUD tool that will put 45 deed-restricted (in addition to the 27 employee housing units they will build) in exchange for the right to build up to 48 feet high. This project will house a good many people that are currently unable to find anything in the valley. A good mix of rental and ownership units will provide some relief for the housing crunch and do so on the back of the private sector.
The Bad
This is a massive neighborhood; the biggest since Cottonwood. At 168 units, it is large and dense. Town staff have worked the spreadsheet out at 16.8 units per acre (figuring the property at 10 acres) but the fact is less than 70% of that land is buildable. The rest is wetlands abutting the Elk Refuge. So the development is very dense.
Traffic will be a major issue. Development reps estimate an additional 1,200-plus trips will be generated in and out of their every day. That number seems low. Mercill will be slammed.
Environmental impacts to the sensitive wetlands area will also be significant.
Vigilant Monitoring
Save Historic Jackson Hole will be watching this project closely. The impacts are numerous. Many are clamoring for housing it's true. This development will house many and do it without government funding. But at what cost to our quality of life? The town, the valley, is near capacity if not at capacity. Shoving an additional 588 people (168 units x 3.5 average occupants) into downtown Jackson is a scary proposition. Will our infrastructure be able to handle it? Sewer/water, roads, calls for service to first responders?
What are your thoughts? Do we need housing that bad? Can we fix a problem without creating two or three more? We can't turn back time and return to a quieter, simpler Jackson we all remember, but do we need to rush headlong into a future Jackson that looks like Idaho Falls?